Subaru of Las Vegas is the only Subaru dealership in the Las Vegas area and needed more locals to know it. Prior to partnering with Gray Las Vegas, Subaru of Las Vegas had been focusing primarily on cold calling and generalized campaigns.
The team at Subaru of Las Vegas identified three primary goals: creating a relationship with the local community and its leaders, sharing its corporate values, including the Subaru Love Promise, and targeting adults ranging between 25 and 54 in the Las Vegas market.
Subaru of Las Vegas turned to Gray Las Vegas to help meet those goals.
.
The first step in Subaru of Las Vegas's new initiative was partnering with FOX5's community outreach program, Take 5 to Care. Not only did this allow Subaru of Las Vegas to sponsor 24 annual community events, including those that helped target familiar charities like March of Dimes, Opportunity Village, The Animal Foundation and the American Red Cross, it helped get the dealership out in front of the local community and start developing a relationship with them. Partnering with Take 5 to Care gave Subaru of Las Vegas a strong presence digitally, on social media, and in custom on-air PSAs that encourage community members to "Take 5 to Care."
The partnership quickly created a substantial increase in brand recognition for Subaru of Las Vegas. In fact, those community events were so successful that Subaru of Las Vegas created a dedicated team just to participate in those events. Thanks to its community commitments, Subaru of Las Vegas quickly experienced an increase in overall brand reputation as it positioned itself as a champion for the community. That community outreach commitment also increased overall brand recognition and brand awareness.
Not only that, being actively involved within the community allowed Subaru of Las Vegas to get a quick reaction to its latest ads, allowing the company to adapt and make changes as needed in order to fit the needs of local consumers. As a result, they could transform their future advertising efforts and create increased ROI, all right from their initial platform.
The partnership with Gray Las Vegas made it possible for the dealership to reach its goals. Gray Las Vegas aligns with the brand pillars that define Subaru Las Vegas, making it the ideal media partner for the company's needs.
Robert Vaugh, Marketing & Internet Director for Subaru Las Vegas, says, "Gray Las Vegas set the benchmark for how we conduct our marketing and media campaigns with all our other partners as well. They set the example of what success looks like."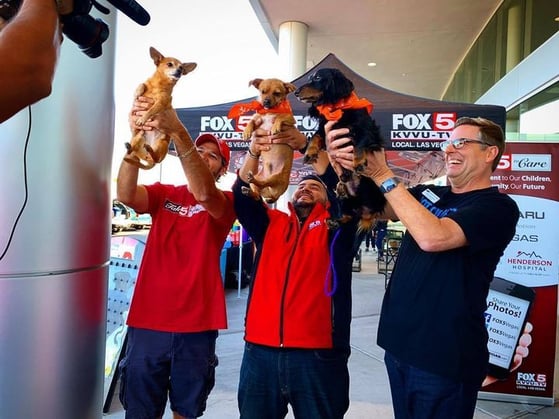 It's a high bar to meet, but Gray Las Vegas is committed to helping our clients achieve their overall marketing goals in a way that meets the specific needs of each business. View the full case study here.