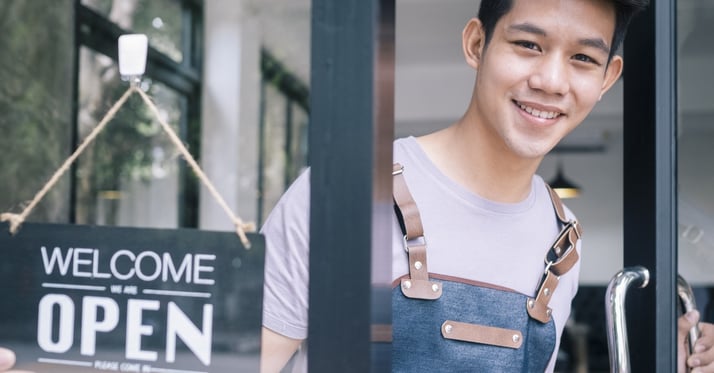 As stay-at-home orders are beginning to lift around the country, many businesses are asking the question- what now? As new reopening phases are announced, you'll want to have a strong plan of action in place to set your business up for success.
Tailor Your Messaging
You've likely shifted your message to be empathetic during this time. As orders begin to change, you'll want to continue to tailor your messaging to the specific needs of your customers as your business operations evolve.
Let your customers know that you are open/ reopening for business and ready to serve them again.
Include how you're accommodating customers right now and when your doors reopen. Be specific i.e. curbside pick-up, delivery, touchless payments and limited occupancy.
Continue to provide support and reassurance about how you're operating safely for both employees and customers.
Engage With Your Audience
By engaging with your audience, you are able to build brand awareness, stay top of mind and create deeper connections with potential customers. Staying connected will encourage customers to visit your location once they are able to do so. People are craving content, answers and interaction. Consider the following:
Sending Emails. This is a great way to speak directly to your current and prospective customers in their most personal space, so you'll want to make sure that the message speaks to them. Let them know what services you're providing that are unique to this time, what's in stock, discounts you're offering, delivery times - anything that will make their life easier. Consumers are looking for transparency and answers right now - send it to them.
Creating Interactive Content. This is a great time to create engaging videos--not just ads but entertainment for your customers. Other ideas for an interactive experience include quizzes, live videos, Q&A segments and polls. Not only are these excellent ways to entertain your audience, but it's a great opportunity to get a better understanding of what your customers need right now and in the upcoming months.
Engage on Social Media. Your social media pages are a great place to interact with your customers quickly. As you post updates and new content, engage with your audience to strengthen the connection with your business, while simultaneously analyzing the success of your digital marketing efforts.
Remaining top-of-mind now is an essential part of preparing your business for the future. Stay connected with your audience as most are at home and online more than ever before.
Plan For A New Normal
Updates are emerging weekly across the country, and our new normal will look quite different than before. Nevada is opening in phases, so it's important to get your plan in place now so that you're ready when the time comes for your business. Think about what your new normal will look like and how you will serve your customers while keeping everyone safe.
Will you be offering a deal?
Consider offering a promotion as a 'thank you' to your customers for their loyal support of your business. This has been a stressful time financially for most, so this is a way to show support and relief to your customers.
How will you be keeping your space safe and sanitary as you resume business?
Businesses will be required to follow a set of safety guidelines to keep all employees and customers safe. This might include extra sanitation, required PPE, limiting the number of people in-store, a change in store hours, or even a change in products and services. Plan ahead for the supplies you may need, including masks, gloves, cleaning supplies and hand sanitizer. You want to make sure that you are ready and prepared for when you reopen your doors.
What does your 'welcome back' campaign look like?
You're open! Now it's time to let people know! You'll want to have your creative message ready so that you can respond quickly as soon as you receive the word. Set the tone for your business moving forward. Create excitement while also informing customers on how they can utilize your service. Make sure that your message is tailored to the platform that you are using. If it's social media, try to prompt engagement. If it's digital ads, have the ad directed to the location on your site where people can take an action. If you're using television, use the power of sight, sound and motion to tug at people's heartstrings, or appeal to their senses. Consider using a tone of positivity in the months ahead, while reassuring customers that you are still in it together.