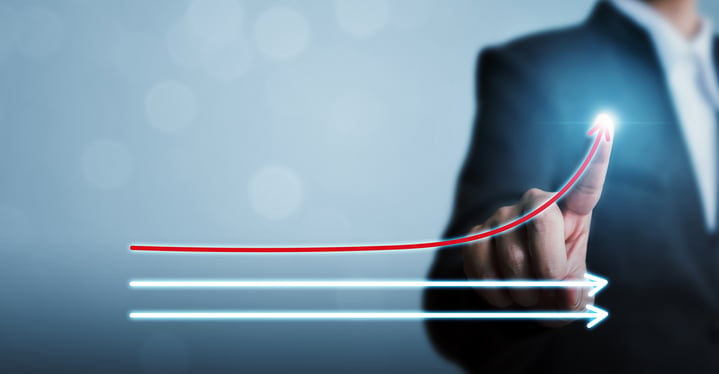 Businesses strive to become the leaders in their industry: the name that people recognize when they think of a brand. Seventy seven percent of people refer to name brands, rather than specific objects, when they talk about certain products. Many people feel like well known brand names represent quality, making them more likely to purchase from a brand they recognize vs an off brand product. For example, brands like Band-Aid and Kleenex are often referred to when speaking of a product, even if they don't necessarily mean the actual brand.
In times of change, there is opportunity. History has shown that companies that have stayed consistent with their messaging or increased advertising during challenging times have seen significant increases in market share. With television viewership increasing, and rates being aggressive, now is a great opportunity for a business to establish ownership of their category, leading to long term business growth.
Advertise Consistently
Consistency is key to being successful long-term. If you have to start small, focus in on a few key areas that really make sense for who your primary audience is. The more you can brand your name in the minds of consumers, the better recall rate you will have for your messaging.
There's a reason why McDonalds has never stopped advertising. Even the most well-known brands in the world need to stay top-of-mind with potential customers. The second you stop advertising, the momentum you've gained as the market leader can start to decline. Consider the cereal war of Kellogg & Post during the Great Depression: Kellogg doubled their advertising budget promoting their new Rice Crispy product which was an inexpensive breakfast that is still popular to this day, whereas Post pulled back their marketing funds. Ultimately, Kellogg's profits rose almost 30% making them the dominant winner with a slogan we can all remember to this day- Snap, Crackle, Pop.
Similarly, in the recession of 2008, many will recall Amazon doubling down promoting their new Kindle, along with the launch of Amazon Prime. Amazon increased its marketing efforts, provided new services to customers, and, as a result, made substantial progress toward becoming the industry leader we know today.
During unprecedented times, many brands are tempted to scale back their marketing. However, if you're able to remain consistent you will likely see an increase in your market share.
If You're Not First, You Don't Have to be Last
It's the "King of the Hill" concept: the first brand to establish ownership of the market usually wins, but if you can't be first, that doesn't mean you can't be successful in the marketing arena. Ask yourself what sets you apart from your competition. Dig deep and think about what it is that is truly unique to your business. What do you offer that your competition doesn't? Find your niche in your category, and own that space.
Stay on top of trends in your industry. Look for areas of opportunity as the landscape and needs of the consumer evolves allowing you to carve out a new niche within your category that you can be the first to own.
Don't Try to Be Everything To Everyone
People can only remember a finite number of brands within any specific category. Think of the rule of 7 in any category. Humor us for a moment and try this exercise yourself- name the first 7 fast food companies that come to mind. Next try to name 7 fast food companies that are specifically sandwich based. The second is much harder wouldn't you say?
Don't spread yourself too thin by trying to be everything for everyone. The brands who try to be everything for everyone end up causing more challenges than successes. Understanding what consumers want from your brand will help you to market specifically to those needs, while helping you position yourself as a leader in your category.
It's important to make sure you are doing the same thing with where you market your business. While increasing your reach is important, it's essential that your commercials are being targeted to the right audience. When starting a new campaign, consider increasing your frequency in a few targeted areas that really make sense for your target rather than running your ads on broad rotation schedules.
Be Relevant & Innovative
Give the people what they want. Lots of advertisers make the mistake of making their commercials about them when in reality, it should be about the consumer. Make your messaging relevant to the consumer and their needs so that it's clear how your brand can contribute to their lifestyle or solve a problem they may have. Your marketing messaging should:
Be authentic
Focus on the client
Strike an emotional connection
Make your message memorable, and have realistic expectations about the fact that it will take time for people to absorb the information and subconsciously retain it.
Integrate Your Marketing Efforts
If you have a multi-platform approach, make sure your creative is telling the same story of your brand across all platforms. Different platforms require different types of content, but the underlying message should remain consistent. If you're advertising on social media, make sure your platforms are current and up to date with information that is relevant to the consumer.
OTT is continuing to grow, and works hand in hand with a broadcast campaign. Think of the broadcast campaign as your reach vehicle to touch the most amount of eyeballs, and your OTT as your more targeted audience approach. This allows you to both establish awareness of your product which is essential to any new advertiser as people need to know who you are, but also then target those that are closer to the bottom of the purchasing funnel and are more likely to make a purchase sooner than later.
Consider working with a media partner to ensure that all of your marketing efforts are working together towards the same goal. Having a strategy is key. A media partner can help you come up with a strategy that will get your brand in front of your target audience with a message that speaks to their needs. Without a detailed plan for your marketing efforts, you risk not getting in front of the right people at the right time. Failing to plan is a plan to fail.
Be a Resource For Your Customers
Think of how your business can be a resource for your customers. A goal as a business is to solve your customer's problems, enhance their lifestyle, and assist them with their needs. In addition to offering a product or service for your target audience, consider providing them with additional content that they will find useful. You may:
Have a blog and post regularly
Host webinars and conferences
Provide downloadable educational materials
Make infographics
Put together videos, including how-to's, explainers, and more
By creating marketing materials with the consumer in mind, you increase your chances of staying top-of-mind.
Now is an excellent time to strategically plan your marketing efforts around the goal of establishing ownership in your category that can build your business for the long haul. With consistent, relevant messaging, in the right space, you will be able to position your business as a leader in your category.