A media partner collaborates with your brand for the sake of getting your message out to your target audience. Most media professionals have the tools and expertise, including video production capabilities, to handle all aspects of your marketing campaigns. From the moment you realize you need to advertise until you reach your specific goal, a trusted partner will guide you through the process and handle every detail.
But, how can you tell if your media partner is giving you what you deserve? Here's a look at what each side of the partnership should cover, how to determine if you are getting all you can, and what you should do if you feel like the relationship is lacking.

Your Role in the Partnership
A media partnership works best when everyone does their part. To facilitate a positive outcome, you as the business owner should:
1. Do your research
Before you can select the right media partner, you must thoroughly research your options. Pay attention to campaigns that impress you and find out who led them. Read reviews and testimonials to gain insight into what other business owners have to say about the media companies you are considering and ask questions. The ideal partner will be well versed in the strategies you feel will help you reach your marketing goals.
2. Have a clear idea of your goals and the metrics you'd like to reach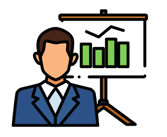 Think about the audience you would like to reach. Who are your target customers, and how do they consume content? The more defined your ideal customer persona, the easier it will for your partner to help you reach consumers who fit it. Decide on your goals in terms of numbers, define your KPI and make sure you are an active participant in the marketing process. You should be happy with the plan and feel comfortable knowing that your partner will help you reach your goals.
3. Remain open to new ideas
You may have some idea of reaching your target audience, but your media partner has the experience to do it well. If you are willing to listen, the campaign can reach heights you never imagined. A partner with access to production can help you execute ideas and create commercials, digital ads and other marketing campaign elements so that you don't have to.
What Your Media Partner Should Do For You
The best media partners handle the bulk of the marketing campaign. Be sure yours is willing to:
1. Work on your behalf while offering their expertise
The main goal of a partnership is to help YOU reach YOUR goals. The organization you decide to do business with should listen to your pain points and your past successes to come up with an effective strategy. Your media partner should also be asking a lot of questions about your business, past campaigns and industry in order to create a custom campaign for you. They thrive on offering their expertise to assist partners in finding success and increasing ROI.
2. Improve your SEO

Search engine optimization leads to increased traffic, engagement and conversion. A seasoned partner will know how to improve SEO to get your content recognized to establish you as an expert in your field. Best practices will be adhered to and updated as necessary.
3. Add credibility
Successful businesses are based on honesty and trust. When you partner with a well-respected media partner, it gives credibility to your campaign. The best media professionals will already have the kind of reputation that you want to attach your brand to, and putting yourself in the company of those who are successful shows customers can trust you as well.
4. Increase brand awareness
To compete in today's market, a strong brand is essential. Consistent branding across multiple channels increases your revenue by 23%. Your media partner will work to bring awareness to your brand and broaden your network.
5. Measure/analyze your data

Your media partner will work to establish your business in the correct channels and outlets by creating and maintaining content for your website and social media sites. They will develop your commercials and digital ads to help increase your ROI. Data will be routinely analyzed to ensure that your campaign remains effective, and adjustments will be made when needed.
Making Sure Your Media Partner is Giving You Their All
A reliable media partner will build trust with your team by creating a transparent environment from the start. They should communicate what tactics they are using and why they chose them. If you don't understand the purpose of something, ask. If you aren't happy with the results you are seeing, say so. Communicate early and often so that everyone knows what's happening at all times.
If you find that your marketing goals are not being met as expected, re-evaluate your plan. This is a collaborative effort, and you should brainstorm ideas as a group. When you work with a well-respected media partner, their expertise and attention will help you achieve your goals and ultimately grow your business.