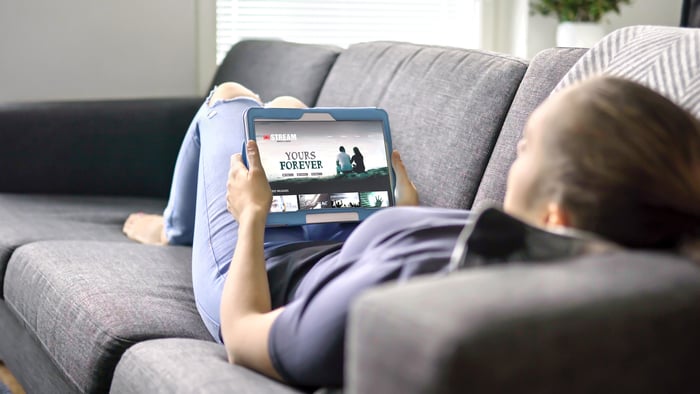 If TV ads are at the heart of your marketing program, then embracing the power of OTT might just be what you need to reach the next level. This advertising medium is becoming increasingly popular as people choose streaming platforms that add to their programming options. As this innovative marketing channel causes great shifts in the advertising world, you could get left behind unless you are willing to make the jump. So, take a look to discover everything you need to know about OTT for local advertisers and why you should hop on board.
What is OTT?
Like TV, OTT delivers the entertainment people crave, right to their device of choice. Meaning over-the-top, OTT media services are streaming platforms that offer online content on demand. These platforms serve a niche audience and act as a standalone product, which differs from TV in that many audiences are served in a single place by numerous entertainment companies.
In addition to video streaming services offering TV shows and movies, OTT can refer to:
Audio streaming services
Video chat providers
VOIP calling solutions
Online messaging platforms
To access OTT services, all people need is an internet connection and their ideal device. The most popular devices to date include:
Computers
Smartphones
Tablets
Gaming systems
Set-top boxes
Smart TVs are also a popular way to access OTT content, as they provide the ability to switch between cable channels and the preferred platforms with the click of a button.
Depending on their business model, OTT service providers may bring in money with paid subscription options, often with several tiers of service. At the highest tiers, subscribers can elect to ditch the ads in favor of paying a bit more each month, though that is not the norm. Most rely on in-app purchases and advertising to monetize their platform and continue offering quality service to the audiences they serve.
Why Local Advertisers Should Not Ignore OTT
Although cable services and OTT seem similar, there are key differences that make investing in both marketing channels a good bet. Here's a look at why OTT cannot be ignored, especially as its popularity and reach continues to grow.
You Can Reach the Right Audience
OTT platforms tend to complement TV offerings, giving audiences a wider variety of content. Each platform serves a different audience, making it well worth investing in both marketing channels.
OTT platforms are often unique in their ability to target specific audiences. You can use their audience demographic to find platforms serving your ideal clients, then send ads their way. You can also deliver your local ads to people in the right areas, ensuring they can access your products and services in an instant.
Media Consumers Who Stream TV Prefer Local Ads
When it comes to relevancy, nothing gets it right better than local ads. These ads speak to the exact needs of the target audience while providing truly actionable options in resolving their problems.
For that reason, 62 percent of consumers would much rather see local ads over national ones while watching TV, according to a survey by Zypmedia, giving them a way to take action right away. If they are hungry, for example, seeing an advertisement for a local restaurant does them much more good than a national one that might not be as accessible to them. And, that figure is even higher for those watching OTT streaming services.
You Can Make the Advertisement Tailored to the Viewer
Consumers prefer ads relevant to their interests and are much more likely to convert as a result. With OTT platforms serving niche audiences, you can select the ones that serve your target customers and deliver ads relevant to their needs. You can then achieve the desired results from your efforts without wasting advertising time and money, bringing your marketing return on investment in line with your expectations.
By tapping into the power of OTT, you can address these three areas and improve the effectiveness of your marketing program.
The Rise of OTT — or Why It Should Not Be Ignored
Even when your TV advertisements are carrying along your marketing program beautifully, you shouldn't ignore OTT channels. As these marketing channels grow in popularity, local advertisers everywhere are sure to experience great success with this medium. So, make sure you do not get left behind by embracing the power of OTT marketing channels as well.