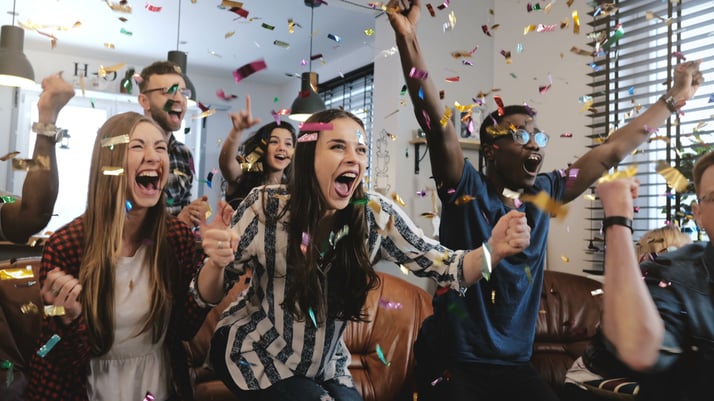 By now, there's been a lot of talk about OTT and the potential it brings to marketing and advertising. Not only is it growing more popular among consumers with more than 50 million cord-cutters in the U.S. (and predicted to reach 55.1 million in 2022), but ad spend is actively being relocated to OTT by most brands.
Here are eight ways OTT is dominating 2021.

8 OTT Stats That Will Have You Saying Yes! To OTT
1. There was a 115% increase in OTT TV streaming between 2020 and 2021. (Conviva)
The whopping 115% increase in OTT streaming on TVs over a span of a year shows that OTT is anything but a temporary phase. In fact, these numbers (and the many other reports that predict continual growth) say that OTT is here to stay. The sooner you take advantage, the better.
2. As of Q1 2021, the most popular OTT TV device was Roku, with a 37% share of TV viewing time in North America. (Conviva)
Many advertisers use OTT TV devices like Roku, Amazon Fire, Google Chrome, and more to reach their target audiences. This statistic portraying Roku as the leading share of viewers says that if you're deciding between devices, Roku might be your best option.
3. Netflix is the biggest OTT service in the U.S. in revenue, with 30.8% of all subscriptions heading their way. (eMarketer)
Netflix is topping the charts as far as streaming platforms go. And as rumors of offering an ad-supported platform swirl, advertising may be available in the future on this streaming giant. But don't make the mistake of missing out on channels like Hulu, Peacock and others. It's more likely than not that your target audience is on multiple ad-supported subscriptions. The key is to pinpoint which ones.
4. With over 3 million subscribers, Hulu with LiveTVis the most common cable TV replacement. (TechJury)
Costing more than $30 less than traditional cable TV, Hulu with Live TV is only one example of bringing Live TV to streaming for viewers. As you can see by its three million subscribers (and counting), this trend is only going to go up from here.
5. 72% of consumers prefer free or low-cost ad-supported TV over ad-free and more expensive options (14% preferred the ad-free alternative). (Forbes)
Many would like to think the change from linear TV to OTT is due to commercials and extensive advertising. However, this study reported by Forbes shows that 72% of customers would still choose ad-supported subscriptions over expensive ones. This indicates that commercials and ads weren't necessarily the problem — but maybe the lack of relevance and expensive costs were the actual cause.
6. Studies show that nearly two in five consumers are watching live sports on connected TV screens through ad-supported streaming — 30% cited live sports as a reason to maintain their cable subscription, half as many who said that in a study just nine months earlier. (Forbes)
Much like the growing number of subscriptions to Hulu with Live TV, sports are another big reason consumers keep their traditional cable TV subscriptions. While there are certainly more people watching sports on linear TV than OTT right now, the drop in viewers citing sports as their main reason to keep their cable suggests they may be looking to OTT for those needs.
7. More than 51 million U.S. households regularly stream content from an OTT platform, and 46% subscribe to two or more OTT services (most average 3.4 subscriptions). (Magnet Global)
Not only is it evident that you can reach a significant portion of your target audience through OTT advertising — no matter what business or industry you are in — but you can do it on multiple services. With the help of highly targeted and real-time data, OTT can help you reach the portion of 51 million viewers that matter most to your brand on three or more of their favorite streaming services.
8. Adult viewers in 2021 still spend 48 minutes more per day with TV than they do with digital video. (eMarketer)
The fact that adult viewers spend more time with TV than with digital video shows the power of combining TV and digital video for maximum results. Adopt an integrated mix of effective approaches and strategies that best fit your target market.
Reach The Right Audience With OTT
Research is showing that, without a doubt, OTT is an essential part to your marketing strategy. To ensure you're reaching the right audience with OTT, work with a media partner to get started. In the meantime, follow our Gray Las Vegas blog for more marketing and OTT advertising tips.