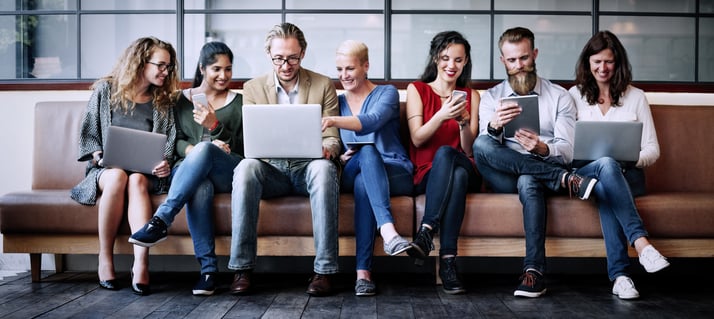 Every small business has a unique voice and a specific target audience they want to reach. Knowing precisely how to target your audience and where you can find them online can make it easier to connect at little to no cost. One of the best marketing tactics that businesses can use to reach audiences is social media. Identifying where your audience spends their time can help you get the most from your campaigns.
Here, we breakdown seven of the most popular social media channels and discuss what makes them ideal for your small business marketing strategy.

Facebook

If you want to maximize your reach on social media, Facebook is a juggernaut because of the number of people it allows you to access. Today, there are around 2.8 billion monthly active users across the globe, making it vital for many national and international businesses. You can easily set up a Facebook business page and dynamic ad campaigns to promote your business to nearly any target audience.
One distinguishing feature that's especially beneficial for businesses is that Facebook lets you interact directly with your customers. This enables you to get real-time feedback from them and, in turn, allows you to respond with personalized replies.
You also get many benefits with Facebook ads. The platform gives you access to in-depth reports and analytics for clear insight into your campaigns' performance. You can even micro-target your ads to reach hyper-specific audiences. Additionally, you'll have full control over campaigns based on your budget and designated timeframe.
LinkedIn

If you want to connect with professionals, LinkedIn is a valuable tool for B2B businesses seeking top talent. If you're looking for new staff or ideal partners to help grow your business, LinkedIn is the place to be.
LinkedIn is particularly good for press releases or general promotions. You can also use it to establish both you and your business as thought leaders in your industry.
Twitter

Another great platform to use if you want to connect directly with customers is Twitter. This platform gives you a direct line to customers to engage with them via public or private messaging, with the ability to personalize your interactions. You'll also have the ability to join relevant conversations within your industry to get your name out there. Plenty of B2B brands are using Twitter to reach prospective customers in creative ways.
Twitter ads are also highly successful for many businesses, with ad revenue up 15% and engagement up 27% as of Q3 2020, according to a recent Twitter report. Like Facebook ads, they allow you to reach the exact audience you have in mind.
Instagram

One of the best ways to add personality to your brand is to get creative. While this is already entirely possible with Instagram's image capabilities, the platform's expansion into video makes it even easier to do so.
Instagram is an excellent tool for connecting with younger audiences, including Gen Z and younger Millennials, as 67% of adults between ages 18 to 29 use the platform. If you want to boost sales, Instagram is currently moving directly into eCommerce to attract people who make purchases on mobile devices. To further promote your brand and offerings using influencer marketing, Instagram gives you access to many world-famous and micro-influencers alike to connect with local to global audiences.
Pinterest

If you want to market to a particular lifestyle, Pinterest is another useful platform focusing on home decor, crafts and other artistic endeavors. Similar to Instagram, Pinterest is perfect for more visual marketing through appealing images and visual ads. It's also worth noting that over two-thirds of Pinterest's audiences are women, but that audience is growing to include more men as they comprise over 20% of the platform's audience.
The ROI of Pinterest is also among the highest, with some businesses increasing revenue through the platform by as much as 173%.
Reddit

Reddit is unique among social platforms due to its strict, community-based rules, making it less ideal for promotion and more for audience research. Using Reddit, you can gain more insight into your target audience's pain points, preferences, and what they're looking for in their favorite brands. You can find many segments of your audience on various subreddits, with very active communities ripe for social engagement.
Depending on your business and industry, you may be able to leverage Reddit to lend expertise to people seeking advice. Some possible topics you could develop thought leadership around might include home construction, crafts or even professional leadership.
YouTube

YouTube's massive viewer base of over two billion users and its Google backing make it an incredible tool for both knowledge and entertainment. You can also double the value of your SEO efforts as well-optimized YouTube videos show up in Google searches.
You can use YouTube for videos and video ads, both of which feature their own advantages. For example, with videos you post on your profile, you can interact with customers via comments and have more control over the conversation. At the same time, ads can expose your brand to those who might not otherwise see your channel's videos.
Instructional videos are often the most successful for businesses on this platform, as they demonstrate significant expertise that leads people to do business with you.
Use the Right Social Media Platforms for Your Business
When developing a small business social media strategy, it's best to avoid putting your brand on every platform at once. Instead, find out where your customers are and focus on those few platforms, which will help increase local brand awareness and foot traffic.
To get even more exposure through social media and build trust among your audiences, consider working with a verified source like a local news station. A local media partner can help produce high-quality video content that you can use for social media. They can even develop videos that work better for each platform, i.e. an instructional video for YouTube and a shorter one with closed captioning for Facebook. With the right strategy behind your campaigns, you'll be able to use social media to reach your marketing goals.