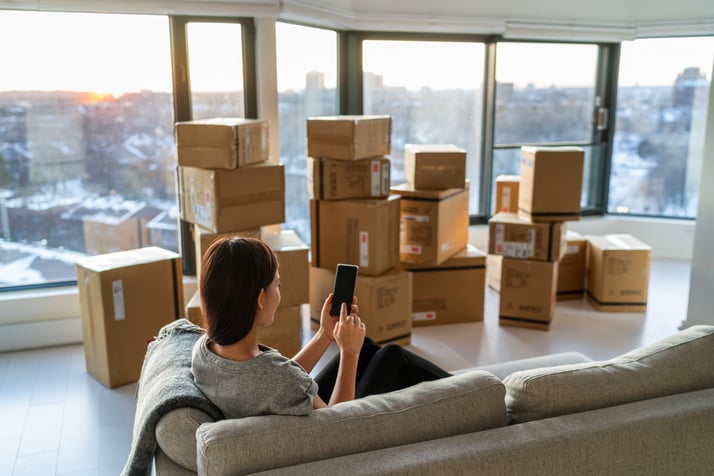 With a record-breaking housing market, Las Vegas is on the move! Digital marketing for your moving company can transition your website from an online portfolio to a lead-generating machine. More and more consumers are looking to the web to search brands, learn about their options, evaluate the competition, and make a purchasing decision. This is why it's more important than ever to ensure your moving company is presented in a positive light.
Digital marketing has proven so valuable in the past that the U.S. Small Business Administration says businesses should spend at least 50% of their marketing budget on digital marketing channels.
To get started, here are some tips on digital marketing specifically tailored for moving companies.
Rank locally in search with Google My Business
Not only is it free to create a business profile on Google My Business, but it's a sure way to get your brand in front of the right audience. Ninety-seven percent of consumers search online for a local business, and every month internet users visit 1.5 billion locations related to their Google searches.
What elicits that visit? A strong business profile and website that conveys credibility and trust to the users searching for your service.
Use SEO
Search Engine Optimization (SEO) is another important digital marketing tactic to keep in mind. It consists of managing your accounts and content in a way that appeals to search engines like Google to rank on top and speaks to people in a way that isn't robotic or unrelatable.
Consider these statistics from SEO experts:
36% of SEO experts think the headline/title tag is the most important SEO element
69.7% of search queries contain four words or more
Long-tail keyword searches have a click-through rate of 3% to 5% higher than generic searches
Show your team at work on social media
Social media is the place to be for any brand looking to reach its audience and grow its business — especially moving companies since nearly 15.3 million American households or more people move each year. Social media hosts about 82% of the population in the United States, pretty much guaranteeing your brand will reach most of that 15.3 million.
More specifically, you'll want to show your team at work on social media platforms. The more connected consumers feel with your employees, the more they'll trust them to handle their most valuable possessions. Meeting your team and learning as much as possible about them helps build relationships that become memorable, improving recognition and referrals in the process.
Add helpful resources to your website
Having helpful resources available on your website to online searchers brings more value to your brand and conveys that you are more than your service — you're an expert moving company who genuinely cares about its customer's entire moving experience.
Helpful resources on your website can come in a number of different formats. These could be tips and tricks for getting homes ready for a move, making use of packing techniques to get more out of less space, etc. You could also have additional resources like a calculator that helps families estimate their moving costs (including your services and others) and print out to-do lists to ensure everyone's ready for the big day.
Launch an email marketing campaign
Email marketing is another digital marketing strategy that is way too overlooked when it's actually one of the most successful digital marketing tactics. Not only are there more than 3.9 billion daily email users, but 73% of millennials prefer communications from businesses to come via email, and 59% of respondents say marketing emails influence their purchasing decisions.
Just remember to appeal to your target audience's specific needs by personalizing emails to fit where they are in their moving journey and matching content that proves most helpful for getting them through it.
Team up with a realtor and look for co-op opportunities
Realtors are always looking for great ways to increase their own value as well — after all, the real estate industry is more saturated than the moving industry. Use this opportunity to team up with a realtor and benefit each other by supplying home buyers with someone who can help them find their dream home and a company that can make their move seamless and easy.
This will appeal strongly to buyers since it's one less thing they have to research after a long journey of paperwork, and everything else that comes with buying a new home.
Work with a media partner to manage your digital campaign
Digital marketing tips like these are a sure way to increase brand awareness surrounding your moving company and improving business.
Working with a media partner to manage your digital campaign will make your marketing efforts much easier to navigate and maximize. After all, they have all the experience and expertise you need to ensure you're doing everything correctly. Follow our Gray Las Vegas blog to learn more about digital marketing and other helpful marketing tips and tricks.