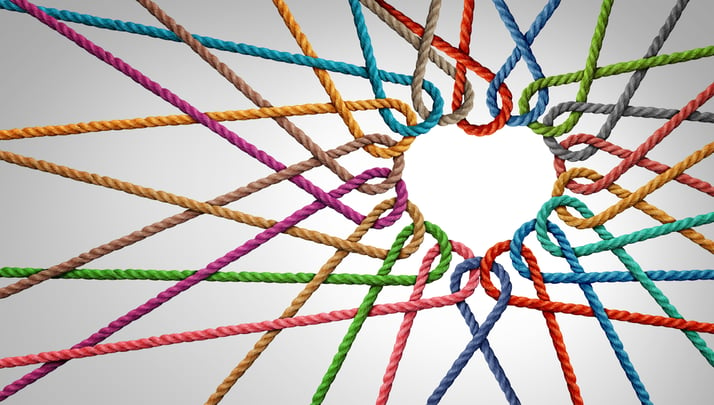 Having a quality product is no longer enough to encourage sales. Consumers are prioritizing purpose-driven companies when making their purchasing decisions. It not only makes them feel good for supporting a brand that is committed to making a positive impact but makes the consumer feel like they're making a difference by supporting them.
Americans expect companies to lead with purpose: 78% of Americans believe companies must do more than just make money; they must positively impact society. Consumers are 6X more likely to protect a brand in a challenging moment, 4.5X more likely to recommend the brand to friends and family, and 4.1X more likely to trust the brand.
Here's everything you need to know about making a meaningful community connection with these top 7 community marketing tips.

What Is a Community Marketing Strategy?
A community marketing strategy refers to a plan of action focused on creating a meaningful presence and connection. While more traditional advertising would target new customers, a community marketing strategy focuses on nurturing relationships with existing customers and new prospects that share similar values.
The Top 7 Community Marketing Tips
Developing a successful community marketing strategy doesn't come without its challenges. However, it will be much easier to create and maintain with the following community marketing tips.
1. Think Local

Community marketing doesn't just refer to the communities on digital platforms — it also refers to the community in which you reside. This is an essential tip to keep in mind because Las Vegas residents are keen on supporting brands that are supporting them. In fact, 73% of consumers believe a company can increase profits and improve economic and social conditions in the community where it operates. Not only do they believe you can, they expect you to be already doing so.
2. Contribute like a Pro
Don't just think local and encourage residents to support causes in Las Vegas — contribute like a pro yourself. It's easy for brands to say they're committed to making a difference, but it's a whole other ballgame to take charge and contribute. Thirty-five percent of consumers perceive brands speaking out as jumping on the bandwagon. Going above and beyond just stating your support — like matching the dollar amount of donations you receive in a given cause marketing campaign — can make all the difference on how your brand is perceived within the community.
3. Be Accessible
The most critical component of marketing in any strategy or method is being accessible and transparent about your intentions. This is especially true in community and cause marketing. Eighty-six percent of Americans believe transparency from businesses is more important than ever before, and 73% of consumers are willing to pay more for products when brands guarantee total transparency. Being accessible to Las Vegas consumers means answering all their questions fully and including your intentions for community marketing efforts in all your promotions.
4. Create Loyal Fans

The truth is, helping others helps you. Not only does your community marketing bring everyone together to make a positive change in the area, but it creates raving fans of your brand. For instance, if you're a brand that is committed to environmentally friendly and sustainable products — your community of environmentally conscious consumers are going to tell others about the good you're doing. This will, in turn, create more trusted referrals for your brand.
5. Team Up to Make Bigger Impact
Coming up with a community marketing plan takes a lot of work – especially if you need to create a strategy from the ground up. To maximize your time and efforts, explore opportunities that are already in motion. For example, many local TV stations have community messages and campaigns that businesses can sponsor. From PSA's to full on community outreach campaigns, a TV station can help create the campaign and then get the word out about what you're doing. This saves you the time and money of doing it yourself – plus your efforts will be multiplied. A win-win for you and the community.
6. Be Consistent
Consistency is another component of community marketing that your brand needs to be successful. Not only can consistent presentation of a brand lead to a 33% increase in revenue, but 81% of global brands involved in localized marketing cite communicating a consistent brand message as a top organizational priority. Consistency is vital for keeping your intentions and purpose trustworthy. Otherwise, your community marketing efforts may come off as inauthentic, insincere and dishonest.
7. Engage

Finally, engaging with your community audience is also an important tip to keep in mind. This can be done via social media or even in person during community events. For social media, you can increase engagements by interacting with your followers by liking, commenting (most notably — responding to their comments!), and sharing information about your community marketing effort. During community events, this includes answering questions and having meaningful conversations with the people in your community.
Create a Meaningful Community Connection with Gray
Creating a meaningful community connection is essential to the relevancy and success of your brand in Las Vegas. Residents want more purpose, and the best place to give your support and make a difference is within your community. Reach out to an experienced media partner like Gray Las Vegas to identify community marketing opportunities.